Living in a Florida tiny house, or planning to? Then you may be thinking of parking your home in a Florida tiny house community.
There are a few tiny home communities in the Sunshine State worth considering. Below, we share our favorites with you along with some recommendations to help you choose the right community for your home.
Circle Pond Tiny Community
https://circlepondtinycommunity.com/
You will find the renowned Circle Pond Tiny Community in South Hillsborough County in the Tampa Bay area. Tiny House Authority lists it as one of the Top 10 Tiny House Communities in the United States.
What makes it worthy of this distinction?
12 spaces.
Rent monthly or yearly.
Low rates ($475 per month at the time of this writing).
Utilities and services: Garbage, water, sewer, electrical, lawn care.
Amenities on-site: Community garden.
Large, open spaces surrounded by lush greenery and a beautiful pond.
Pet-friendly.
Living in Circle Pond tiny house community can be an educational experience. By participating in the community garden, you can learn to grow your own organic vegetables. You also have the opportunity to learn about bees and honey since honey production takes place at the park.
Best For:
If you want to live in a small tiny house community that puts an emphasis on sustainability, Circle Pond Tiny Community could be a great fit. Plus, with the educational opportunities here, this park is very much a community, rather than just a place where people park near each other.
Orlando Lakefront Tiny Home Community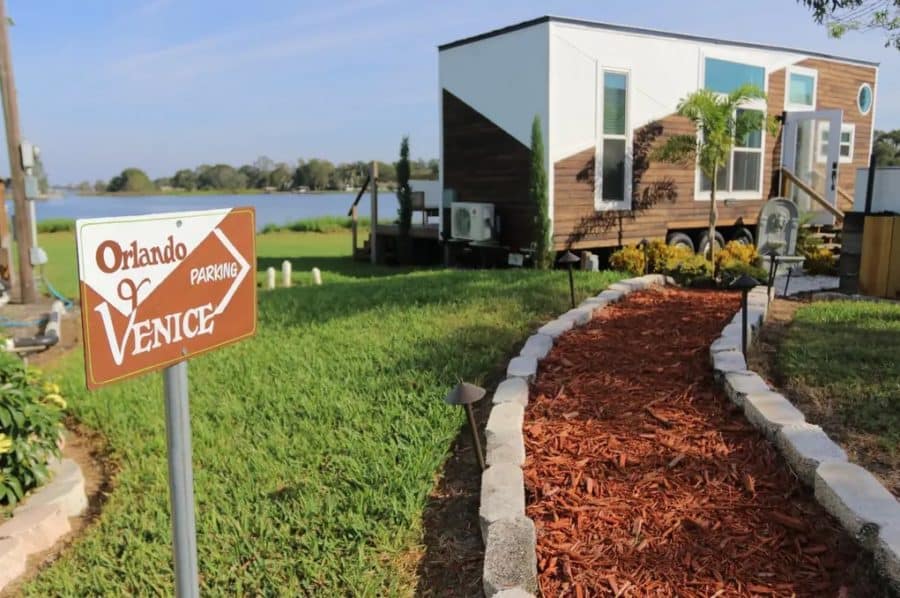 http://www.orlandolakefrontth.com/
One of the larger tiny house communities not just in Florida, but nationwide, is the Orlando Lakefront Tiny Home Community. Here are some reasons to think about moving to this tiny house park:
The administration says that they "currently have about 30 tiny homes at Orlando Lakefront, but more are joining our community all the time!"
Reasonable rates: $350-$650 per month.
If you are bringing your own tiny house or RV, you can live here long term.
You can book a short-term stay if you want to rent a tiny house here and find out what it is like.
As the name suggests, the park has a pleasing lakefront location. Residents and guests are free to take boats out on the water.
Amenities at the park: Community garden, laundromat, fishing dock, park.
Pet-friendly.
Best For:
If you are a tiny house enthusiast who also owns a boat, enjoys fishing, or likes to do other water-based activities, you could do well living in the Orlando Lakefront Tiny Home Community.
Tampa Bay Village
https://www.escapetampabay.com/
This is a tiny house community built by ESCAPE Homes. Note that this is a proprietary community. That means that you cannot park any random tiny home here. ESCAPE made the park specifically for owners and renters of ESCAPE units.
Here are some of the features of the Tampa Bay Village:
Expanding community. The website says, "The first phase of the Village is sold out. The second phase, known as the Oaks, will have 23 units featuring some with entirely new designs."
Buy a unit for $120,000+.
Lot rental includes water, recycling, sewer, and parking.
There is no central laundry facility, but each unit has washing machines and dryers.
Some units include solar panels.
One pet per unit.
Best For:
You should consider this tiny house community if you are interested in ESCAPE tiny homes. But if you already own a tiny house by a different brand, you will need to move elsewhere.
Questions to Ask When Choosing a Tiny Home Community in FL
Here are some things to ask yourself when you are trying to decide on where to live in a tiny house in Florida:
Do I plan to rent a tiny house in the park, or do I want to buy one? Will I be bringing my own, or am I looking to occupy a home that is already at the park?
How much do I have to spend on buying a home and/or renting a lot?
How well can my house handle Florida heat, humidity, and wind? What geographical features am I looking for to help? Is there a particular angle I want my home to be situated at?
What amenities do I need on-site? How much am I willing to pay for them outside of rent? What about utilities and services?
What kinds of relationships do I want to build? Do I want to associate closely with neighbors and administrators, or do I prefer to keep to myself?
What sustainability features are important to me?
Do I want to live in a big park or a small one?
What cities, amenities and attractions do I want to be close to?
What am I looking for in terms of the park's aesthetics, noise levels, and so forth?
How long do I want to be able to stay in the tiny house community?
Enjoy Living in a Tiny House In Florida's Many Communities
Owners of tiny homes in Florida have ample choices when it comes to tiny house communities. You have now had a chance to take a look at several of the state's best tiny house parks. Maybe you will soon be living in one of these lovely sustainable communities!