The Allswell Walmart Tiny Homes Build by Modern Tiny Living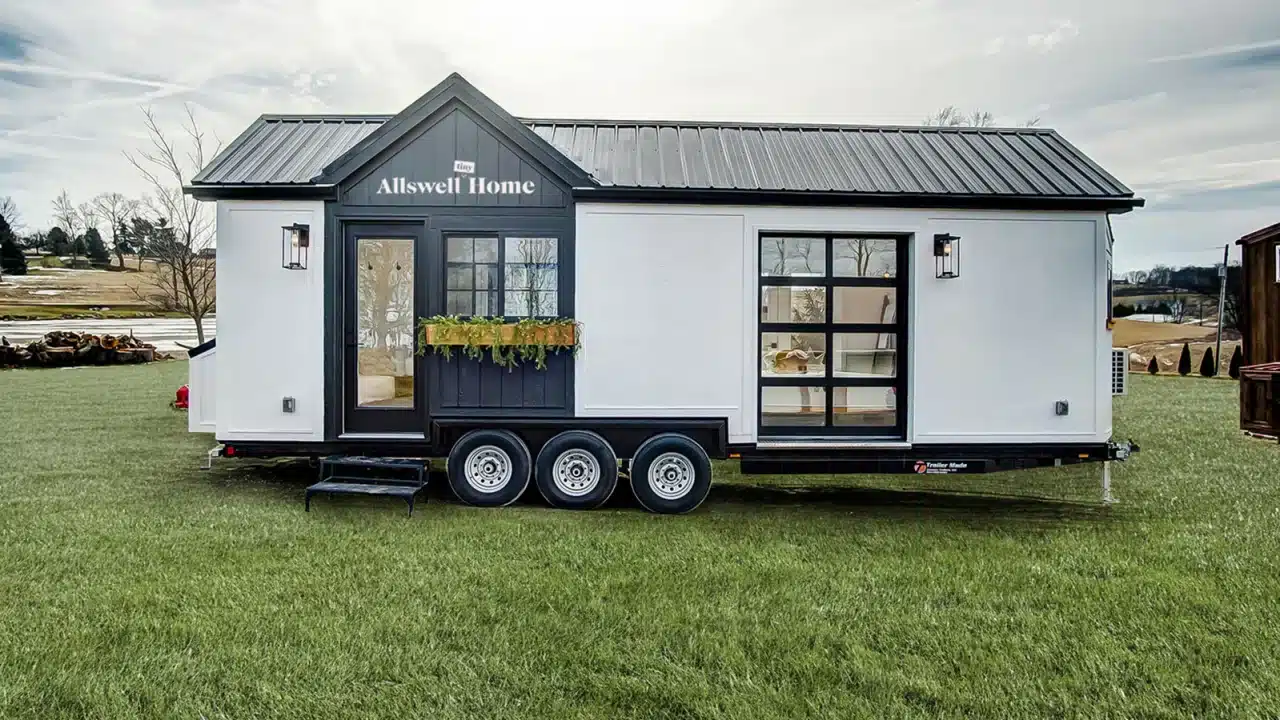 Walmart, the world's largest retailer, has made headlines recently for its foray into the tiny home market. The company has partnered with Modern Tiny Living to build a custom tiny house for Allswell, their bedding and mattress company brand. Walmart wanted to offer a tiny home on wheels that is designed to showcase Allswell's quality mattresses. The Allswell tiny house, is currently embarking on a national tour to give people a chance to see it up close and personal.
The Allswell tiny home is a stunning example of what can be achieved in a tiny space.
Measuring just 238 square feet, the tiny home features a full kitchen, a living area, a bathroom, and a sleeping loft. The home is also equipped with all the modern amenities you would expect, including air conditioning, heating, and a smart home system that can be controlled from your phone.
For those looking to downsize or live a more minimalist lifestyle, the Allswell tiny home offers an attractive option. With a price tag of around $100,000, it's not exactly cheap, but it's still a fraction of the cost of a traditional home. Plus, the mobility of the tiny home means that you can take it with you wherever you go, making it perfect for those who love to travel or explore new places.
Design and Creativity in Walmart Tiny Homes
All images courtesy of Walmart
Walmart's tiny homes are not just affordable and functional; they also boast unique designs that showcase creativity and innovation. One of the most popular models is the Allswell Tiny Home, which features a sleek and modern design that is perfect for those who want to live in style while still being environmentally conscious.
The Allswell Tiny Home has high side walls that provide ample headroom and a spacious feel despite its small size. The interior is designed to maximize space and functionality, with a loft area that can be used as a bedroom or storage space. The home also features large windows that let in plenty of natural light, creating a bright and airy atmosphere.
Another notable feature of the Allswell Tiny Home is its barn-style design, which gives it a rustic and charming look. The exterior is made of durable materials such as cedar siding and metal roofing, ensuring that the home is built to last. The tiny home also comes with a porch, which is perfect for relaxing and enjoying the outdoors.
Interior Features
The interior design of Walmart's tiny homes is bright and airy, with a neutral color palette that gives a sense of spaciousness. One of the most popular models is the Allswell, which has a modern and minimalist design.
Kitchen
The Allswell model features a compact yet functional kitchen with a beautiful blue color scheme. The kitchen includes a sink, a mini-fridge, a two-burner stove, and a microwave. There is also plenty of storage space for kitchen utensils and supplies. The blue cabinets add a pop of color to the otherwise neutral interior.
Bedroom
The Allswell model has a cozy bedroom with a comfortable queen-size bed. The bed is elevated to create additional storage space underneath. There are also built-in shelves and cabinets for storing clothes and personal items. The bedroom is separated from the rest of the living space, providing some privacy.
Loft Space
The Allswell model also includes a loft space that can be used as a second bedroom or as additional storage space. The loft is accessible via a ladder and has enough space to fit a twin-size bed or a small desk. The loft area is open to the rest of the living space, creating a sense of openness.
TV
The Allswell model does not come with a built-in TV, but there is space for a small TV in the living area. The living area is designed to be multifunctional, with a convertible sofa that can be turned into a bed for guests. There is also a small dining table with two chairs.
The interior features are carefully curated to maximize the use of space while providing a sense of openness and relaxation.
Storage Solutions
When it comes to tiny homes, storage solutions are of utmost importance. Walmart's Allswell model provides ample storage options for its residents.
The second-floor loft in the Allswell model offers plenty of room for storage needs. The loft can be used to store clothes, bedding, and other items that are not frequently used. The loft has a four to six-foot headroom space, which is perfect for storing items that do not need to be accessed regularly.
The Allswell model also comes with built-in shelving units, which can be used to store books, decorative items, and other knick-knacks. The shelving units are located in the living area and the kitchen, making it easy to access items when needed.